Enter Shikari.
The band formed as an evolution from an earlier band, Hybryd, and formed in St Albans, England in 2003. All four members are from St Albans. Enter Shikari secured a spot on the Gibson/MySpace stage at 2006's Download Festival. They have also had interviews with popular music press such as Kerrang! and Rock Sound. On November 4, 2006, they became only the second unsigned band to ever sell out London Astoria.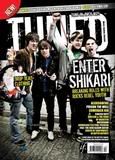 They are probably the best electro/screamo/heavy rock bands out there.
Also, good running music, if you run. - My opinion.